Arrival and check-in information
Your conference registration packet will be available for pickup on Sunday from 16:00 to 19:00 in the archway at Merton near the entrance to the college bar, and on Monday in the lobby of the conference venue (T.S. Eliot Lecture Theatre, Merton College). If you are arriving early enough, please stop by and pick up your packet and badge on Sunday. This will speed things up considerably on Monday morning, and avoid long lines before the opening session.
Local Map
All talks will take place in the T.S. Eliot Lecture Theatre at Merton College, with poster sessions in the vicinity. Lunch and dinner will be served in Hall at Merton. Breakfast will be at Merton for those staying there and Jesus for those staying at Jesus. The bar at Merton will be open every evening from dinner time until 11PM. Wine is provided at the conference dinner, but for other dinners drinks will be available for purchase by the bottle or glass in the bar before dinner.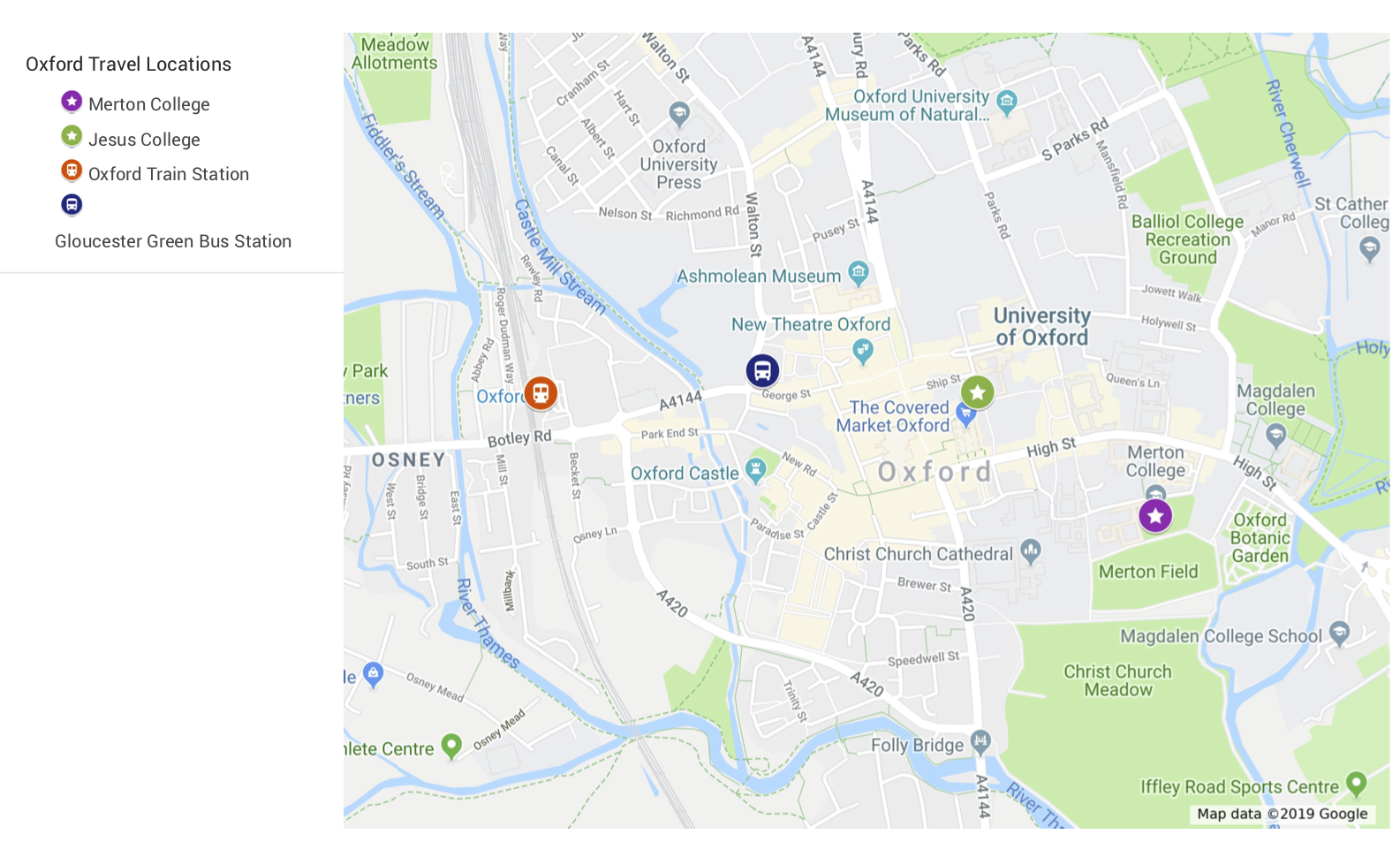 How to get here
Heathrow
Oxford can be most easily reached from Heathrow Airport via the 24/7 "
Airline
" bus (https://airline.oxfordbus.co.uk/). This can be booked in advance with a flexible departure time, or paid for in person. Travel time from Heathrow is about 90 minutes. The "period return" ticket is much cheaper than 2 singles, and the return journey is valid for the next three months. The bus leaves Heathrow from the Central Bus Station (if you arrive at Terminals 2 or 3) and from Terminal 5 (if you arrive at Terminals 4 or 5). Check the website for details of how to find the stop. For the town centre you can get off at the final "Gloucester Green" stop, or for Merton College you can get off a little earlier at the "High Street" stop.
Gatwick The Airline bus also travels to and from Gatwick Airport from the same stops in Oxford. Travel time from Gatwick is about 150 minutes. There is also a train from Gatwick to Oxford, which can sometimes be faster than taking the bus. Birmingham There is a fast and direct train from Birmingham Airport. Other airports Oxford can also be reached via Stanstead or Luton Airports, taking the train via London. This is normally more complicated and expensive than the bus from Heathrow or Gatwick, or the train from Birmingham.
By train From London two train stations are easily linked to the Eurostar via London tube: Paddington (https://www.gwr.com/) and Marylebone (https://www.chilternrailways.co.uk/). Tickets booked in advance can be cheaper than £6 (one way). Oxford can be reached easily by train from virtually anywhere in the UK. Timetables can be checked and tickets can be booked at The Trainline
Things to do-- Outdoor Excursions
Oxford is very bike-friendly, and if you arrange to rent a bike for your stay, it will greatly increase the range of possible excursions. Dockless bikes are available from several companies (account required), but you can get a better bike at lower cost if you arrange to rent one for one or more days from Bainton Bikes. It's good to book online in advance. Remember to bring your helmet!
Outdoor activities at Exoclimes are self-organizing. Oxford may not have the spectacular mountain scenery of a place like Squamish, but it is rich in pretty country walks, excellent country pubs, opportunities for messing about in small boats, jogging and bicycle excursions. And did we mention excellent country pubs? Here are a few suggestions to get you started
Walks and bicycle rides: There are some excellent light walking routes around Oxford. One particularly popular one is walking through the Port Meadow and visiting the The Perch tavern. For a longer walk, you can follow the Thames Path north to Wolvercote and visit The Trout Inn or Jacob's Inn. The Trout is a popular destination for Philip Pullman fans, since it and nearby Godstow Abbey are at the center of The Book of Dust. There are two other nice pubs nearby in Lower Wolvercote -- Jacob's Inn and the White Hart of Lower Wolvercote.
Another excursion is Wytham Woods, just past Godstow Abbey off the Thames Path. This is easy to get to if you have a bike, and is also served by the Science Transit Shuttle ST2 bus . Technically, a (free) walking permit is needed for walks in Wytham Woods, since it's a research forest, but the Curator, Nigel Fisher has told me that it is fine for Conference participants to ramble in the woods. The general guidelines are to keep to the paths, obey the by-laws, and not bring dogs. it is not allowed to ride bicycles in the Woods but bikes can be left in the village or at the entrance. It would be a good idea to keep groups of visitors small. Some more information about the Woods can be found here. There is an excellent pub in Wytham Village -- The White Hart (of Wytham).
University Parks is also a nearby and popular place to walk (or run) around and is family friendly.
The Oxford Canal also has nice walks along the towpath, and is an alternate route to Lower Wolvercote. Along the towpath, by the Frenchay Road Bridge, you'll find the Trap Grounds -- a small but very engaging nature refuge. You can ride your bike on the Thames Path and the towpath if you take care to share the space with pedestrians. If it isn't too muddy you can also ride your bike on Port Meadow. The Plough is another nice country pub located along the canal towpath about halfway between the Walton Well road access to the towpath and Lower Wolvercote. It's on the other side of the canal from the towpath, reached by an old stone bridge, They are closed from 3PM-6PM, though.
Cuttleslowe Park is a nice family-friendly destination, with a butterfly house, a great water-park for kids, minigolf and a lot of playground equipment. They have amazing model trains, but unfortunately these only run on occasional weekends.
Boating: Punts, canoes or rowboats make great outings, but are typically extremely popular during August (peak tourist season). We therefore do not recommend going in large groups of more than about 12 people. The two main punt hires in the town center are Oxford Punting and Magdalen Bridge Boathouse. Further north there is also the Cherwell Boathouse which services a more relaxed part of the river. The Cherwell Boathouse is probably your best option for getting a boat, and has a pleasant place to wait (and a good bar) if you need to wait for availability. From the Cherwell Boathouse you an easily reach the Victoria Arms, which has lovely outdoor seating and is a good place to sit over a pint and ponder the Universe (but any form of food can take forever to arrive). The Victoria Arms can also be easily reached from Oxford by bicycle.
Things to do-- Rainy Day
Oxford Amenities: Oxford has a plethora of museums and attractions within walking distance of Merton. The Museum of Natural History,Pitt-Rivers Museum, Science Museum, Radcliffe Library, the Ashmolean Museum and the Carfax Tower are just some of the many places recommend to visit. Admission to museums is free of charge. The Ashmolean also has an excellent special exhibit on Pompei, which must be booked in advance online, for a modest fee. Most colleges are also open during the tourist season, but you will usually have to pay a fee of ~£5 or more to enter. Christ Church is especially worth a visit (even more so for Harry Potter Fans), and a walk in the Christ Church Meadows is always nice, even in the rain.
Blenheim Palace: If you are feeling adventurous and looking for a day or half-day excursion, Blenheim Palace is an excellent choice. The birthplace of Winston Churchill, there are extensive museums with large grounds. Take the 7 bus to Woodstock then follow the directions. The bus takes 45 minutes to get to Blenheim, so this excursion is too long to fit into the afternoon breaks -- best if you are staying an extra day, or for family who are not attending the meeting.